Customizing Keyboard Shortcuts»
FontLab has a basic keyboard shortcuts customization feature. Keyboard shortcuts consisting of one single key (like V for Element tool or L for Tunni Lines) cannot be customized yet.
To assign shortcuts to menu commands, open the Commands dialog (Help > Commands).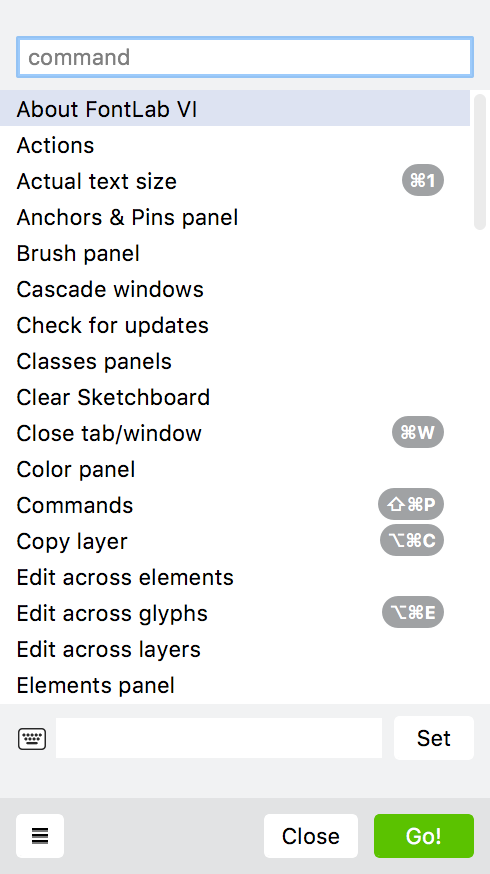 Note
The Commands dialog lists only the first ~ 75 commands that match the current search/filter. Use the search/filter field at top to show/find the commands you need.
–
While in the Commands dialog box you can select the command, which you want to customize. Not all commands are listed. Only 75 are visible. Start typing the command name in the upper field to filter commands and find the particular one.
To remove the existing keyboard shortcut from the particular command, select the command in the list and click on the Clear button at the right of the shortcut field below the list.
To define a new keyboard shortcut, select the command in the list and position the cursor on the editing field below the list. When the caret is in position just press the combination of keys that you want to assign. A description of that combination will appear in the editing field and you can click the Set button to assign that combination to the currently selected command.
To reset all FontLab keyboard shortcuts to factory defaults, click on the hamburger menu button

and select Reset Shortcuts. Other commands in the menu allow you to import and export keyboard shortcuts.
Click Close to close the dialog and save changes to keyboard shortcuts.
Click Go to perform the currently selected command and close the dialog.