Using the Glyph Window»
The Glyph window is the place where you create and edit individual glyphs. To open the Glyph window, double-click on any glyph cell in the Font Window or Font Map panel, or select the cell and press the Return key. To open several glyphs together in the Glyph window, select all of them in the Font Window or Font Map panel, and double-click on one of the cells or press the Return key. The Glyph Window has an editing area and it shares the Property bar with the Font Window.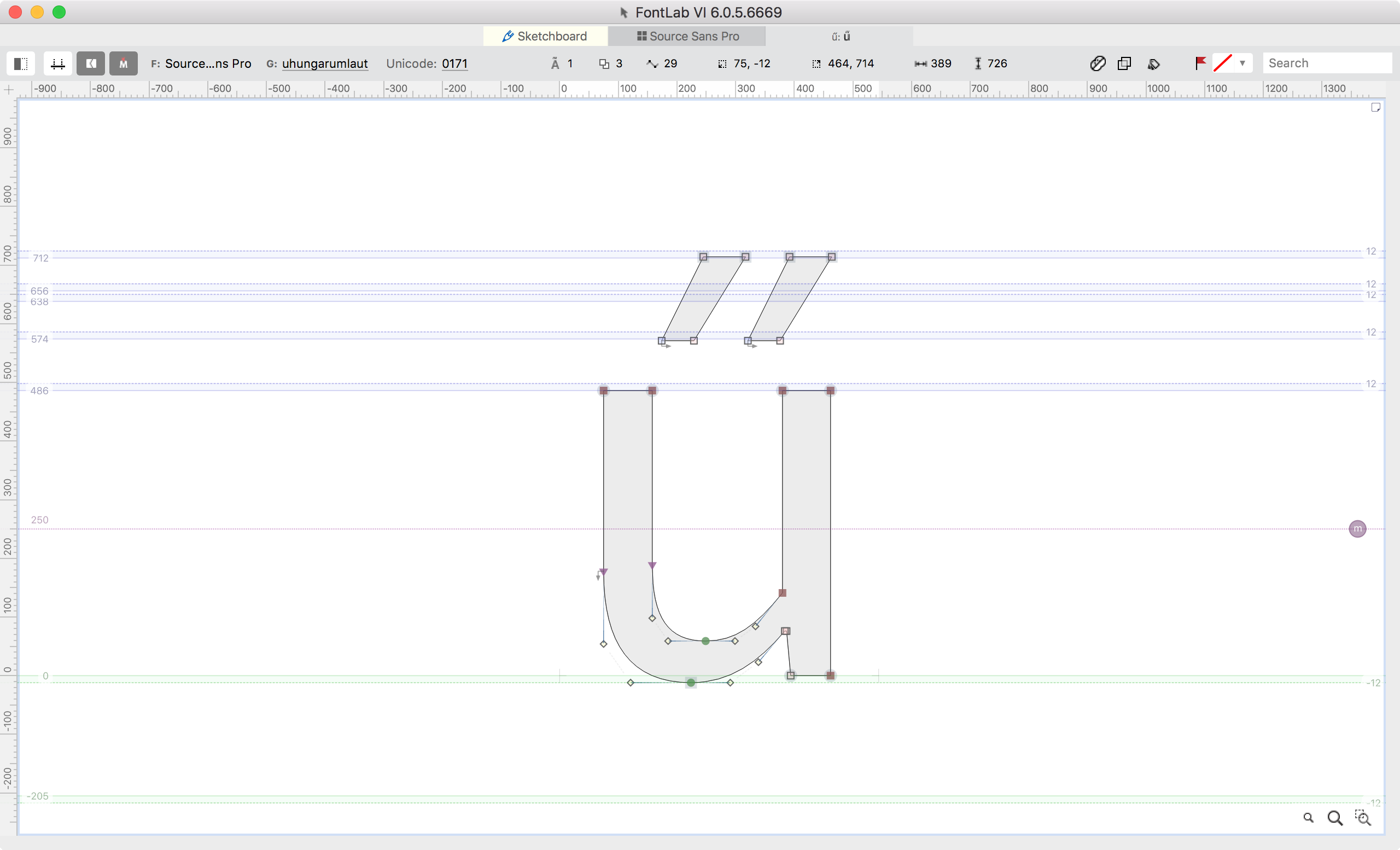 Using the Property bar»
When you have a glyph (or several glyphs) open in the Glyph window with no nodes or contours selected, the Property bar looks like this:

Flagging glyphs»
You can flag glyphs to visually differentiate groups of glyph cells to easily examine and select them. To flag a glyph, click on the flag dropdown and choose a color.

Switching between layers»
If you have more than one layer in your glyph, you can see them in the Property bar. To switch between layers, click on the button for the layer you want to switch to.

If there are more than four layers in the font, buttons turn into the dropdown menu.
Using the Text Bar»
Use View > Text Bar to show or hide the Text Bar, a horizontal text field at the top of the window. There, you can edit the "source" of the text that is shown in the Glyph window. The text bar works the same way as the text field in the content sidebar of the Glyph window, but some users will find it more convenient to work with the content sidebar closed but have the text bar visible.
On the right side, the text bar has a dropdown menu that allows you to choose one of the texts predefined in Preferences > Texts. This is the same dropdown available under the Text button in the content sidebar.
The text bar uses the "glyphtext" notation, so you can input Unicode characters directly (AÄĄ etc.), or you can input glyphnames using the /glyphname format (e.g. /A/Aacute/Aogonek), or hex Unicode codepoints using the \uXXXX format (e.g. \u0041\u00c4\u0104). If you want to enter an explicit Unicode character right after a glyphname or a hex codepoint, enter a space first (e.g. A/Acute Ą).
Working in the editing area»