Variations panel»
The Variations panel Window > Panels > Variations is the primary place where one sets up and controls Variable Fonts (or OpenType Variations) in FontLab. It is usually used along with the Layers and Masters panel and the Preview panel. Before you work with the Variations panel, you should be familiar with the key concepts of Variable Fonts, such as masters, axes, interpolation, design space and instances. Working with Font Variations gives you a process-oriented overview of how to create and manipulate Variable Fonts.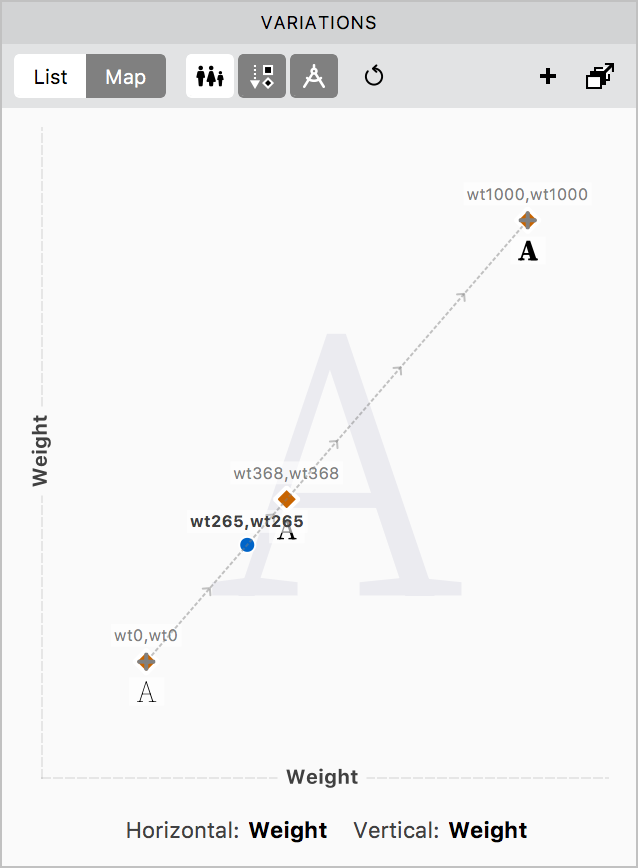 Views»
The Variations panel has two main viewing modes: List view shows all axes at all times as a list; while Map view shows a visual/spatial representation with full detail of up to two axes at once, including position of masters. Generally, if your font has just one or two axes, you will rarely leave the Map view. But if you have many axes, you may often find it easier to traverse the design space from the List view.
Map view»
The Map view of the panel shows a visual/spatial representation of upto two axes. If you have only axis in your font, it populates both the horizontal and vertical axes of the map. If you have more that one axes in your font, the default axes — weight and width — will appear in the map by default. To change the axes you want to see in the map, click on the underlined name of the currently selected horizontal or vertical axes and select a different axis from the list. Any axes that are not being shown in the spatial visualisation, appear as sliders below the map.
The map also shows the position of both font and glyph masters. They are represented by orange diamonds. The dotted line with the plus signs at both ends is called the Interpolation vector. The Interpolation vector shows you how you get from one instance or master to another in the design space via interpolation.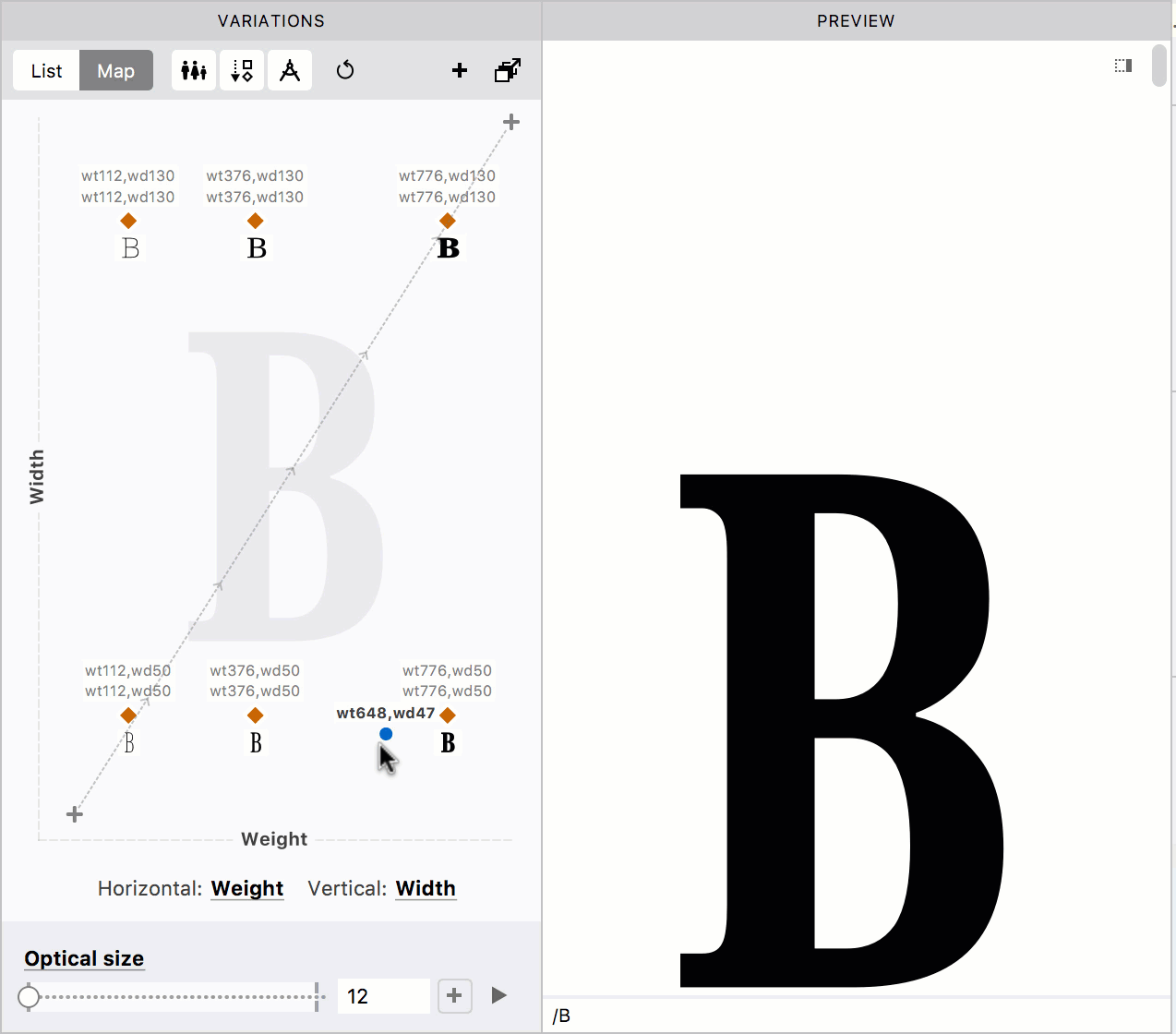 To add a virtual instance, click anywhere on the map and a virtual instance will be added, represented by a blue dot. Note that there can only be one virtual instance. By moving the virtual instance, you can see how the current glyph will look like at any particular position in the design space. This preview is visible within the Variations panel's map in grey, but also in the Preview panel. To move the position of the virtual instance, click on it and drag anywhere within the design space. Alternately, click on a new position in the design space, and the virtual instance will appear there. You can also click on the coordinates of the virtual instance, and enter new values by typing them in.
List view»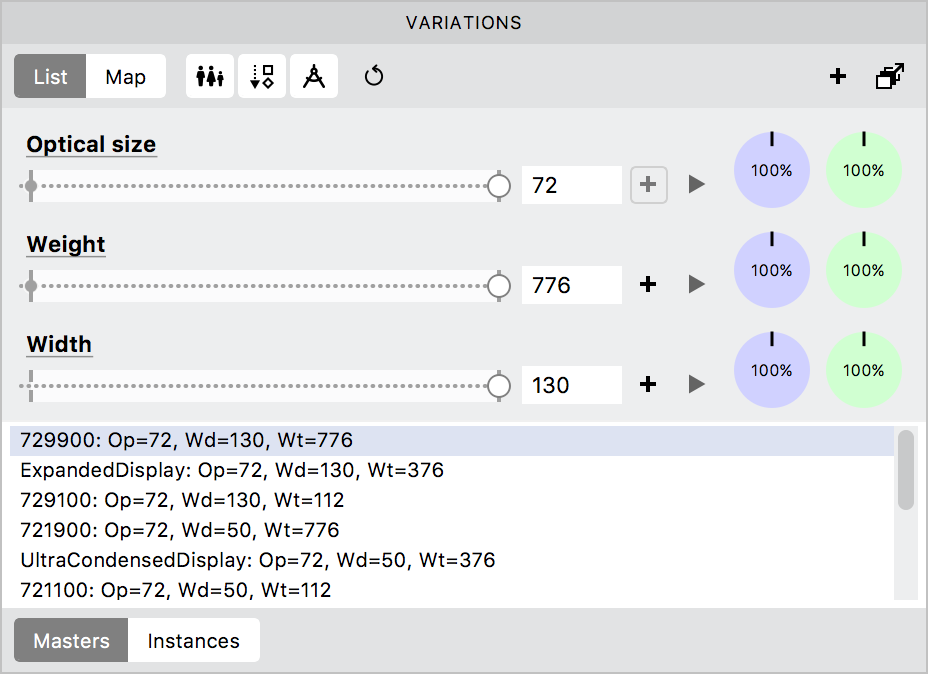 Local toolbar»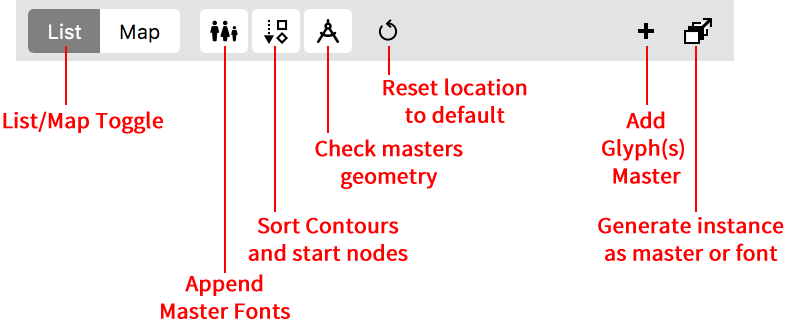 Buttons on the toolbar are described below: