Transform panel»
The Transform panel Window > Panels > Transform allows you to apply simple transformations to the selected area or to the whole glyph layer when in the Glyph window, or to several selected cells when in the Font window.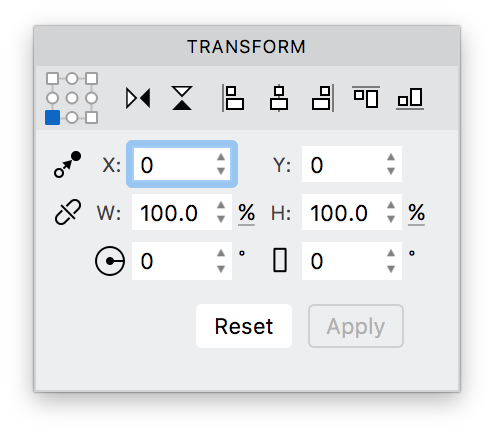 Before you apply a transformation to a whole layer or selected area, set the transformation origin using the button on the top-left.
Click on the Apply button to perform transformations after you have entered values in the panel.
Use the Reset button to change all fields back to their original values.
Note
If you transform cells selected in the Font window, the transformation is applied not only to the elements but to the glyph metrics as well. If you have several layers/masters in the glyph the Transform panel affects them all.
The following transformations are available in the panel: