Free Transform operation»
To activate the Free Transform operation, use Tools > Free Transform (CmdT). Like Geometric transformations, Free Transform can work in two modes:
In Editing mode»
When the Contour tool (A) is active, double-click on the selected contours, or use Tools > Free Transform if nothing is selected. You will see a blue transformation rectangle surrounding the area that will be transformed: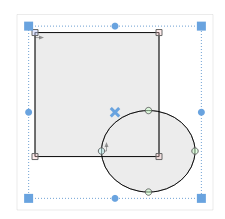 When the surrounding rectangle is blue, it means the transformation will apply to both nodes and contours. If there are other elements sharing the same contours (i.e. element references), they will be transformed as well.
In Element mode»
When the Element tool (V) is active, select several elements or use Tools > Free Transform to transform the current element or component. You will see a green transformation rectangle surrounding selected element(s):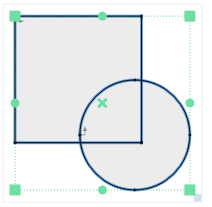 The green rectangle means the transformation applies only to this particular instance of the element/component. Other elements/components referencing to the same contours will stay unchanged. In this case the element properties are changed, and you can see this in the Elements panel.
Transformations»
Once the Free Transform operation is activated, the following will appear in the middle, dynamic part of the Property bar: