Image panel»
The Image panel Window > Panels > Image lists bitmap filters which can be applied to image Elements. Selecting an item in the list shows the filter options.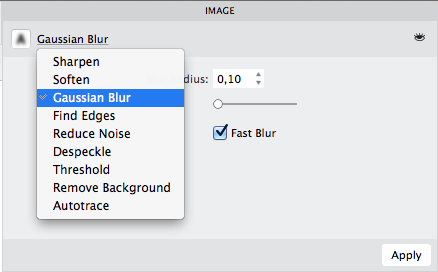 The Image panel can be used in the Sketchboard or in the Glyph Window. First, select the element which you want the filter to be applied to. Click on the Eye button to show or hide the preview of transformation. Change filter options and click on the Apply button to apply filter to the selected image.
Note that some filters will have little or no effect on some images, depending on the nature of the image and the particular filter effect. For example, Despeckle and Reduce Noise only work if there is speckling and noise, respectively.