Ninety Second Vertical Metrics¶
Intermediate-Advanced
If you already know how to set your vertical metrics, this article is for you. I'll be quick, quick, quick. You can also use this checklist when you are doing your metrics.
Benefit Know where to put all of your vertical metrics values.
OS/2.sTypo Values: Enter into Ascender and Descender
Hhea values: Uncheck the box in Other values
OS/2.usWin Values: Enter Safe Top and Safe Bottom
OS/2.sTypo Values¶
Go to menu: File > Font Info… > Family Dimensions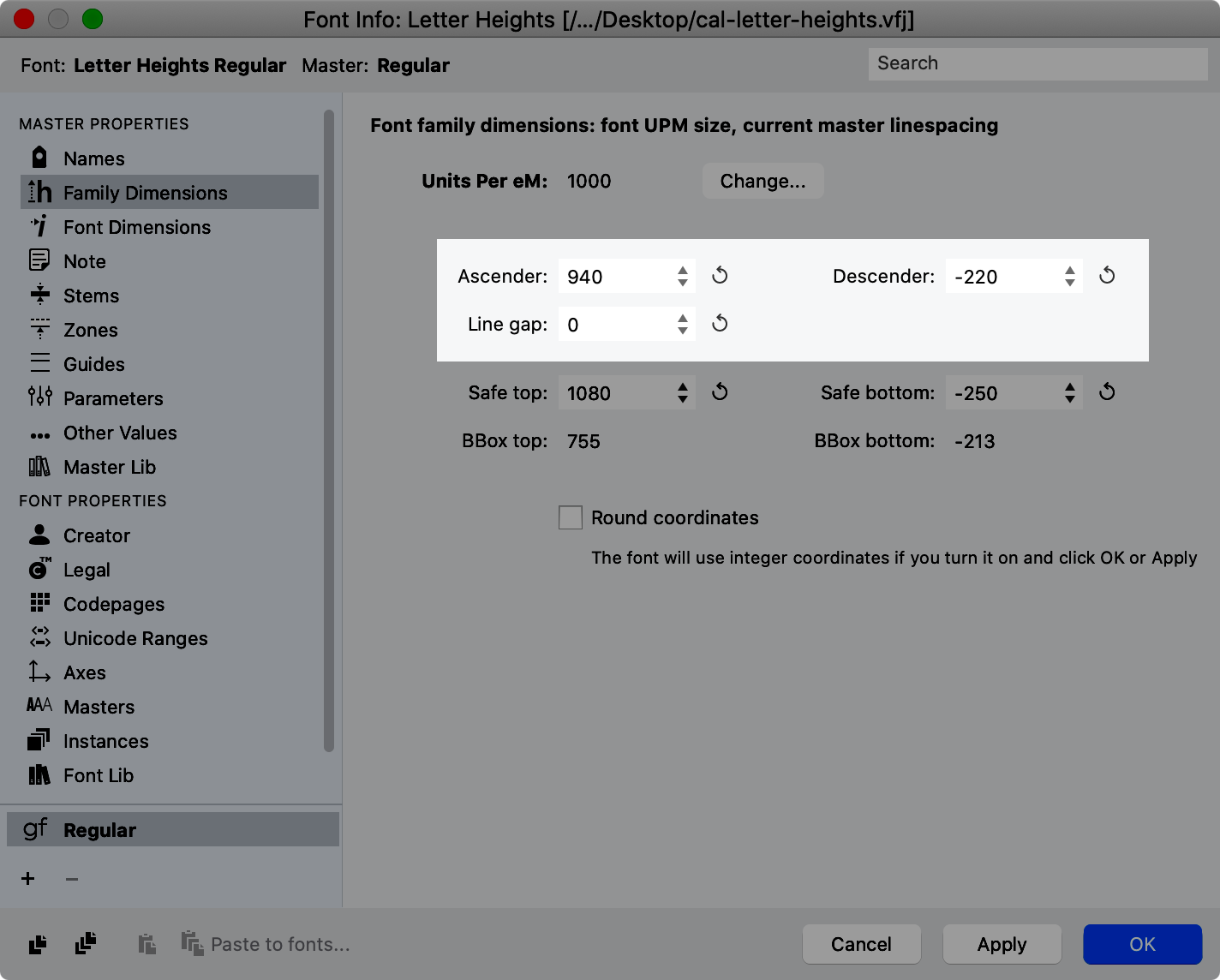 Ascender, Descender, and Line gap set the OS/2.sTypoAscender, OS/2.sTypoDescender, and OS/2.sTypoLineGap.
hhea Values¶
In FontLab, the hhea values are automatically set equal to the OS/2 values.
However, to make sure something didn't go wrong, go to: Font Info… > Other Values sidebar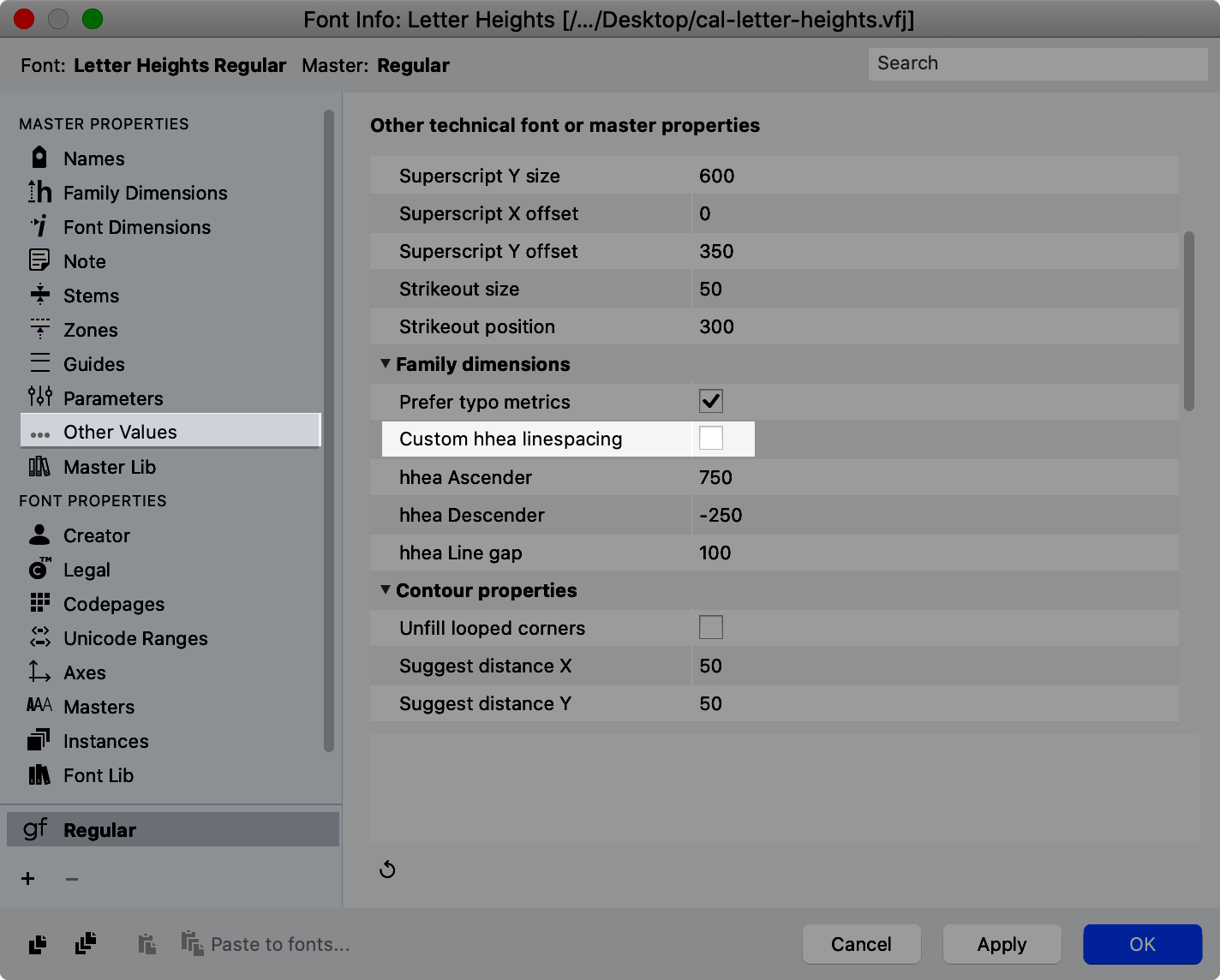 Make sure this is unchecked.
To make hhea and OS/2.sTypo different, check the box, and adjust the values below.
OS/2.usWin Values¶
Go to: Font Info… > Family Dimensions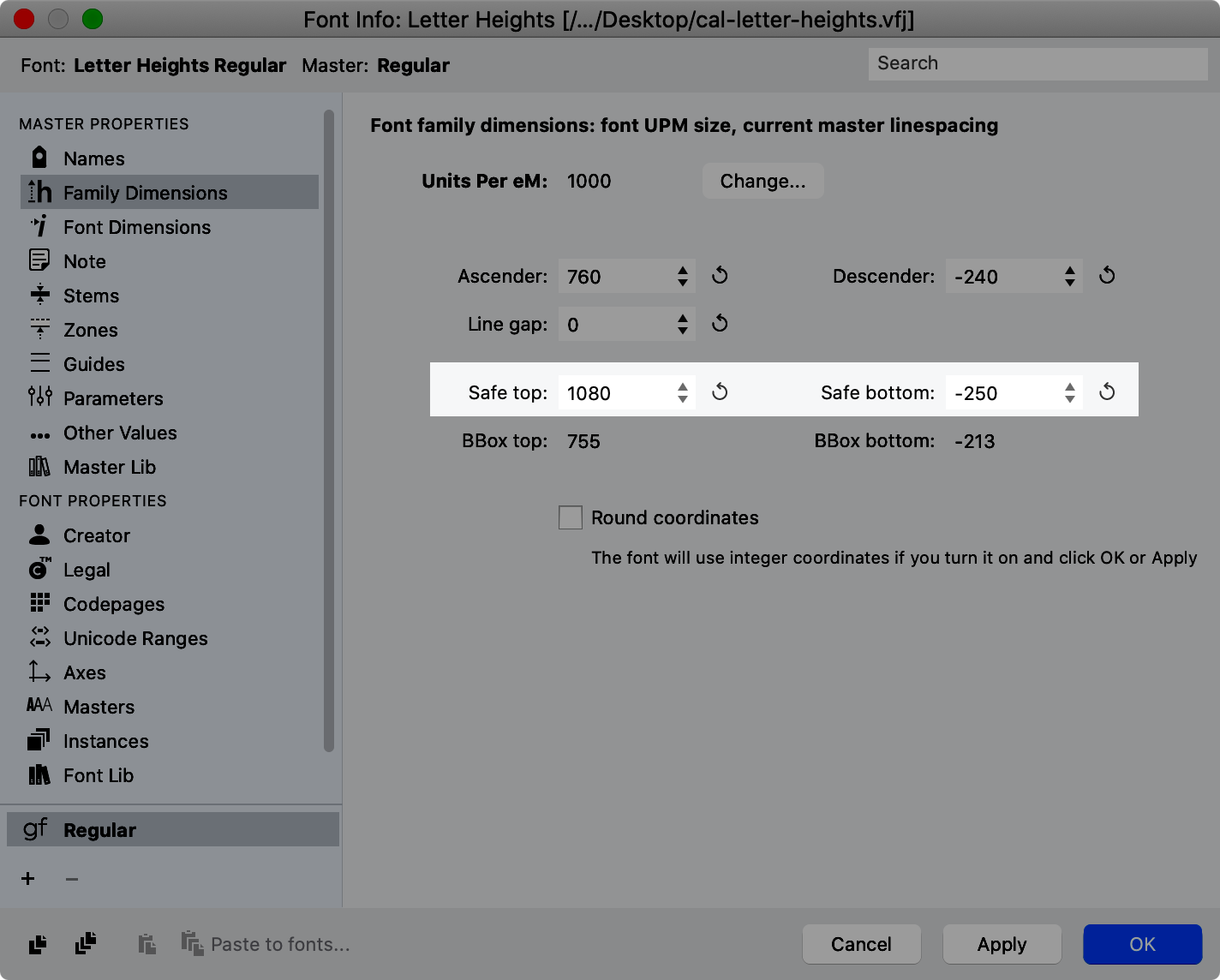 Safe top and Safe bottom are the same as OS/2.usWinAscent and OS/2.usWinDescent.
Ok, I wanted to make sure you know this.↓
Bounding box (BBox) values do not correspond to any vertical metric. They show the highest and lowest points, to help you determine the Safe top and bottom.
How to Avoid Weird Line Changes in Apps¶
NOTE!
BBox only measures the values of your current master.
Usually, you want to make the values match between all masters. If you don't, your line spacing will get weird in word processing apps!
So find the masters with the highest and lowest values. Use those.
OS/2 fsSelection useTypoMetrics¶
To turn on this flag, go to Font Info > Other Values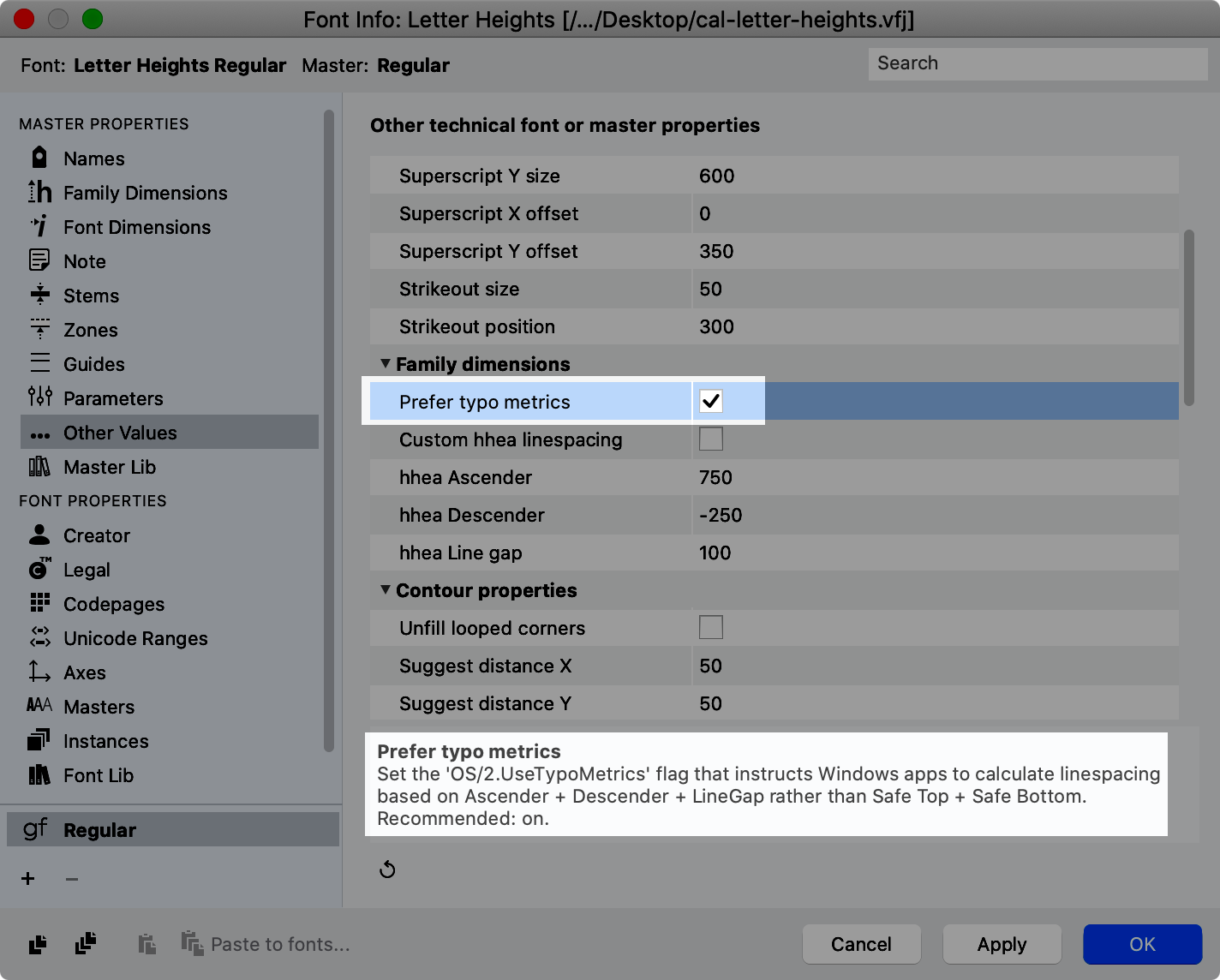 Discussion of this on TypeDrawers. https://typedrawers.com/discussion/1605/os-2-fsselection-usetypometrics And this. https://typedrawers.com/discussion/comment/20968#Comment_20968
Cap height & x-height (OS/2.sxHeight OS/2.sCapHeight)¶
Go to Font Info > Font Dimensions.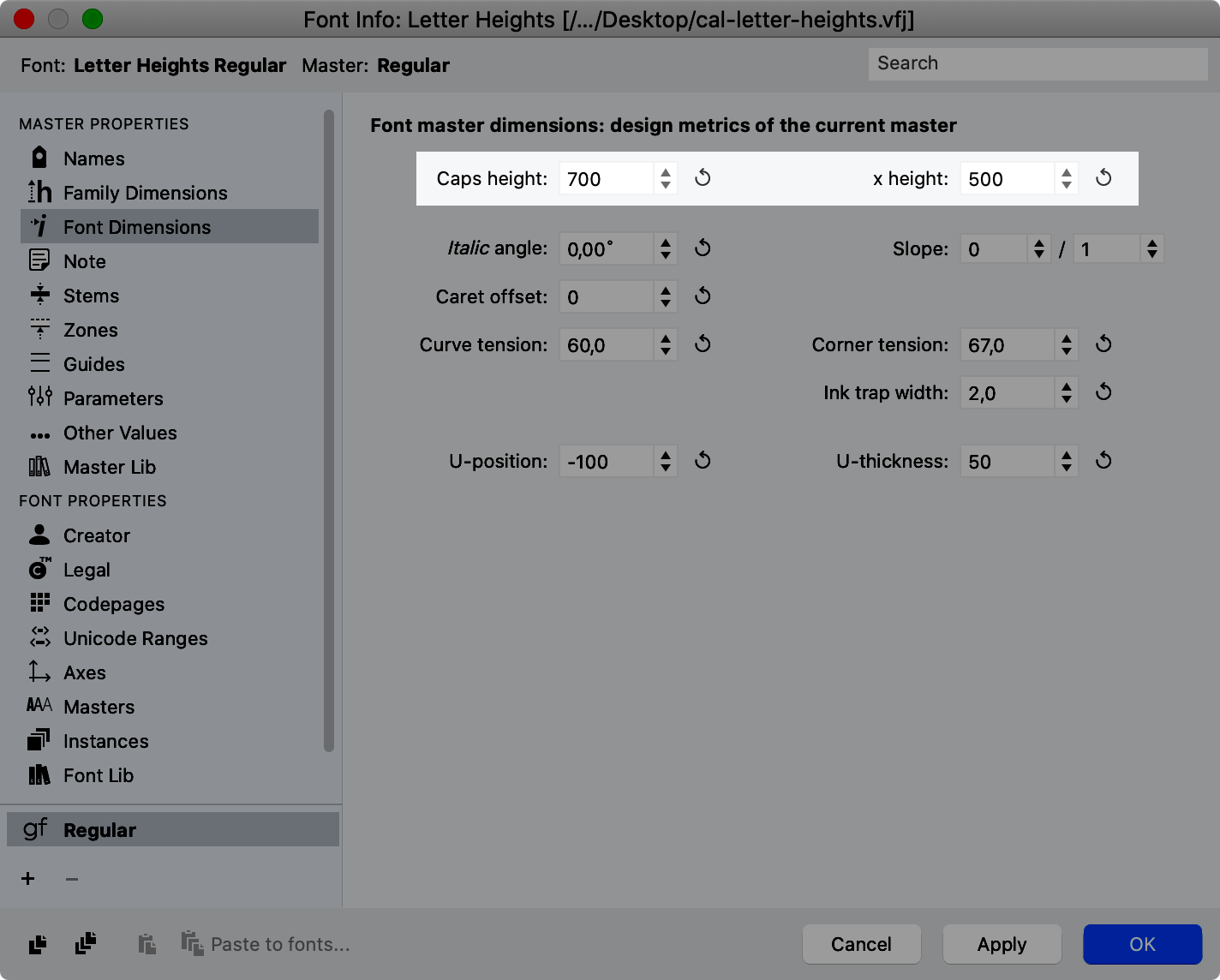 Assign the Caps height and x height here. Font Dimensions can be different for each master.
Vertical Metrics in Multiple Masters or Fonts¶
Do you have a multiple master font? Or a font family in two VFCs?
To change these values more quickly, you have two options.
This first option works best if you are copying values into a different FontLab VFC file.
Copy and Paste Page**¶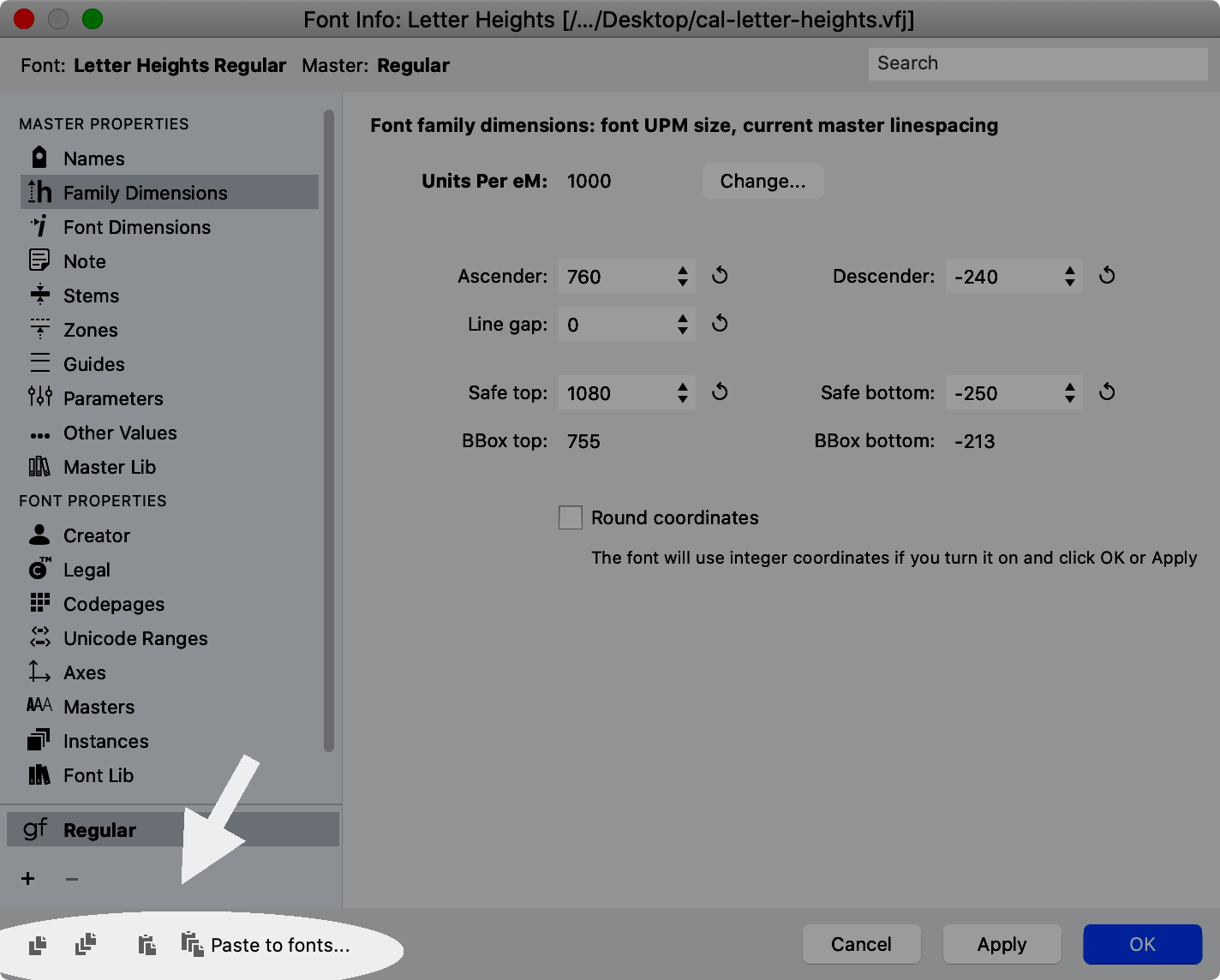 Hover over the buttons to learn the commands. (Holding down Alt usually copies to all.)
Overview of Values¶
This is something I love, because everything is copy/pastable.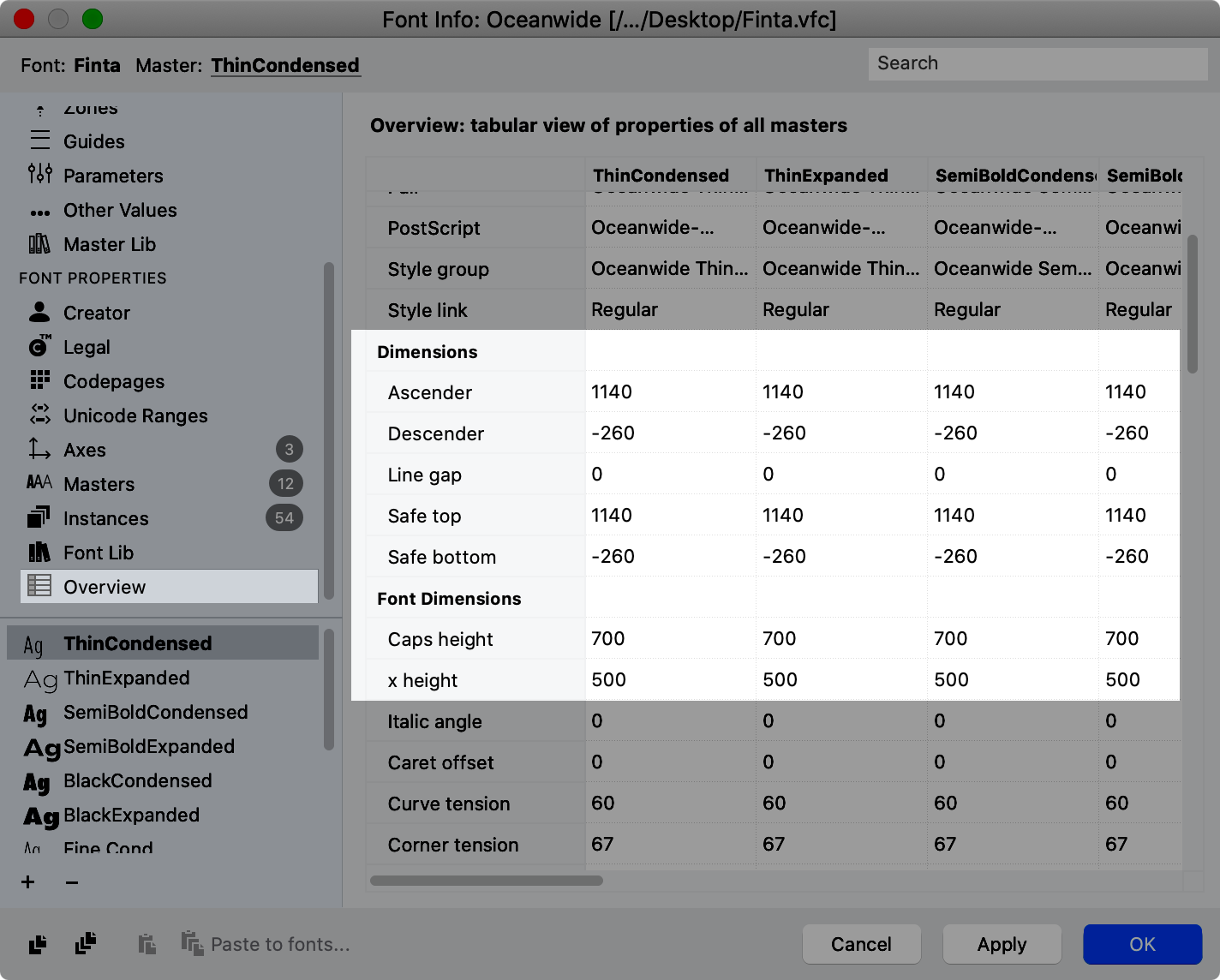 Note:
Delete does not work when you are outside a cell.
If you want to set the values to blank, copy and paste a blank cell.
You can copy from one cell into multiple cells.
This is also a great way to check your vertical metrics and hinting values!
If you need more information on Vertical metrics, see this in depth tutorial.
OK, my 90 seconds are up!
Hope this gives you a good reference for finding everything.
Regards,