Does My Font Need Hints?¶
16th Century Cadel, Carefully Hand-Hinted by an Abbey of Monks
Benefits Save time by not putting hints on fonts that don't need them.
Does Your Font Need Hinting?¶
This gives you a general idea if your font needs hinting. From most likely, to least likely.
| Type of Font | Hinting? |
| --- | --- |
| Modular/Blocky_ | Yes |
| Sans Serif_ | Yes |
| Slab Serif_ | Yes |
| Serif_ | Yes |
| Italic* | Yes |
| Rounded Sans | Sometimes, depends upon how round. |
| Blackletter | Unless very consistent, usually no |
| Calligraphic Script | Usually No |
| Cursive Script | No |
| Blurry | No |
| Brush Pen | No |
| Distressed/Rough | No |
| Scanned/Inky | No |
| Sketched | No |
| Chaotic | No |
| Decorative/Versals | No |
| Ornaments | No |
If any of these is distressed or meant to be uneven, hinting is not needed.
Here's an example of each.▼
Fonts from top to bottom: Orbitron, Sculpin, Serifa, Superior Title, Park Lane, Omnes, Amador, Medusa, Mina, Freehouse, Smoothy, Calder, Harlean, Fredericka the Greatest, Elliots, Adorn Solo.
If a font doesn't need hinting, you probably don't need to follow the nodes at extremes rule. That because nodes at extremes is primarily for hinting. And vice versa, if it needs hinting, it should also follow the nodes at extremes rule.
Displays Need Hinting?¶
If you font is a display, it's also less likely to need hinting.
However, hinting would make it work best under any condition. For example, when a user makes it too small.
Example of Glyph Hints¶
Because I put that crazy example at the top, I want to show you what good hints look like.
Example letter with appropriate glyph-level hints.▼
If you are autohinting, mostly forget about these glyph level hints! You don't look at them unless there is something wrong with a letter.
SO…
You looked at the above lists. Have you determined if your font needs hinting?
If not, we should really turn it off.
Otherwise hints can cause minor problems. Also it makes your file a tiny bit larger.
Here's how to turn off autohinting.
What if My Font Doesn't Need Hinting?¶
How to Turn Off AutoHinting¶
We need to make a non-hinting profile.
Making Profiles¶
Go to menu: File > Export Profiles…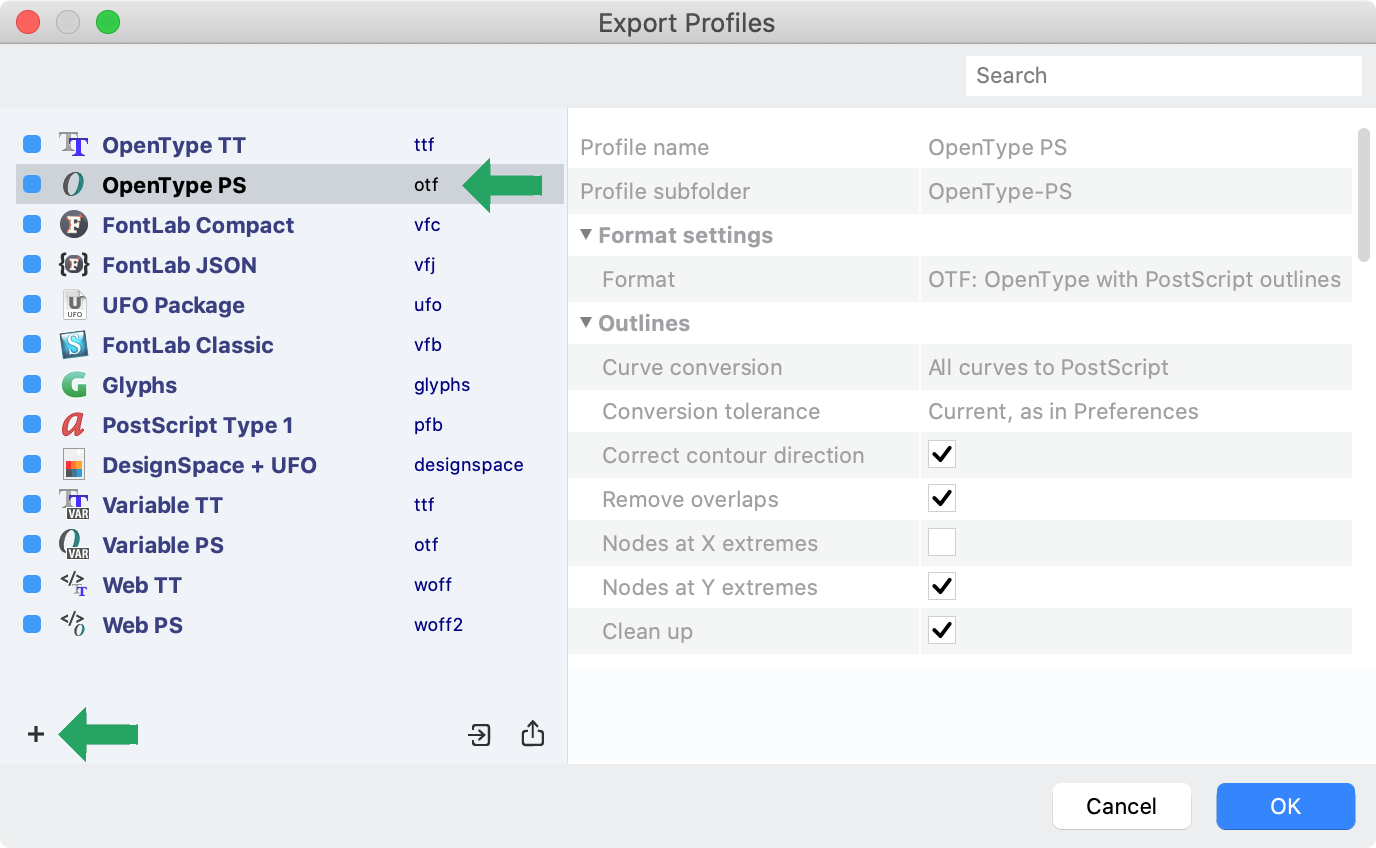 click OpenType PS, then click the plus +.
You made your own profile!
Now, go down to the hinting section. Switch Autohint to "No". Then name your Profile.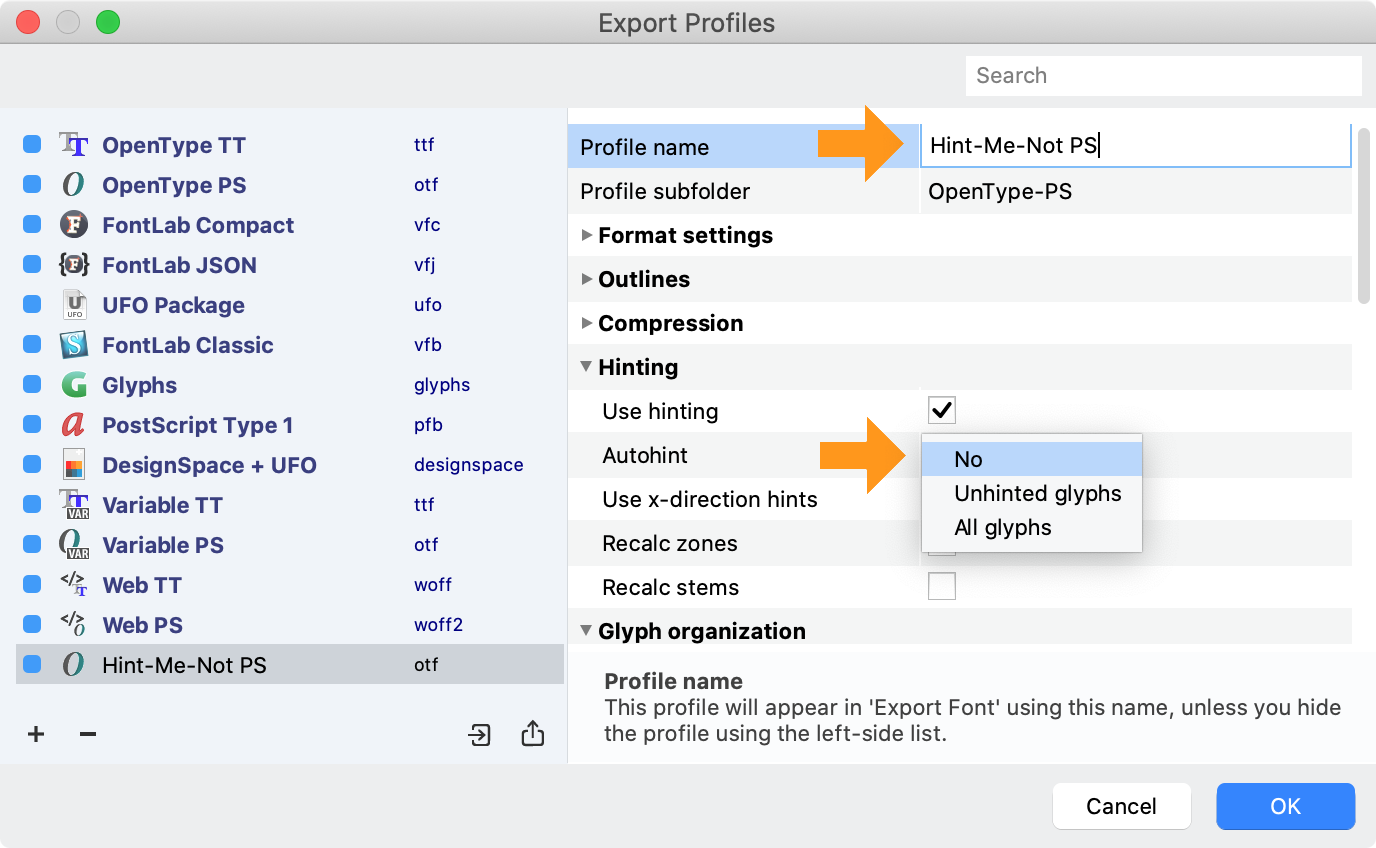 When you push CmdE to export, you will now see your new profile.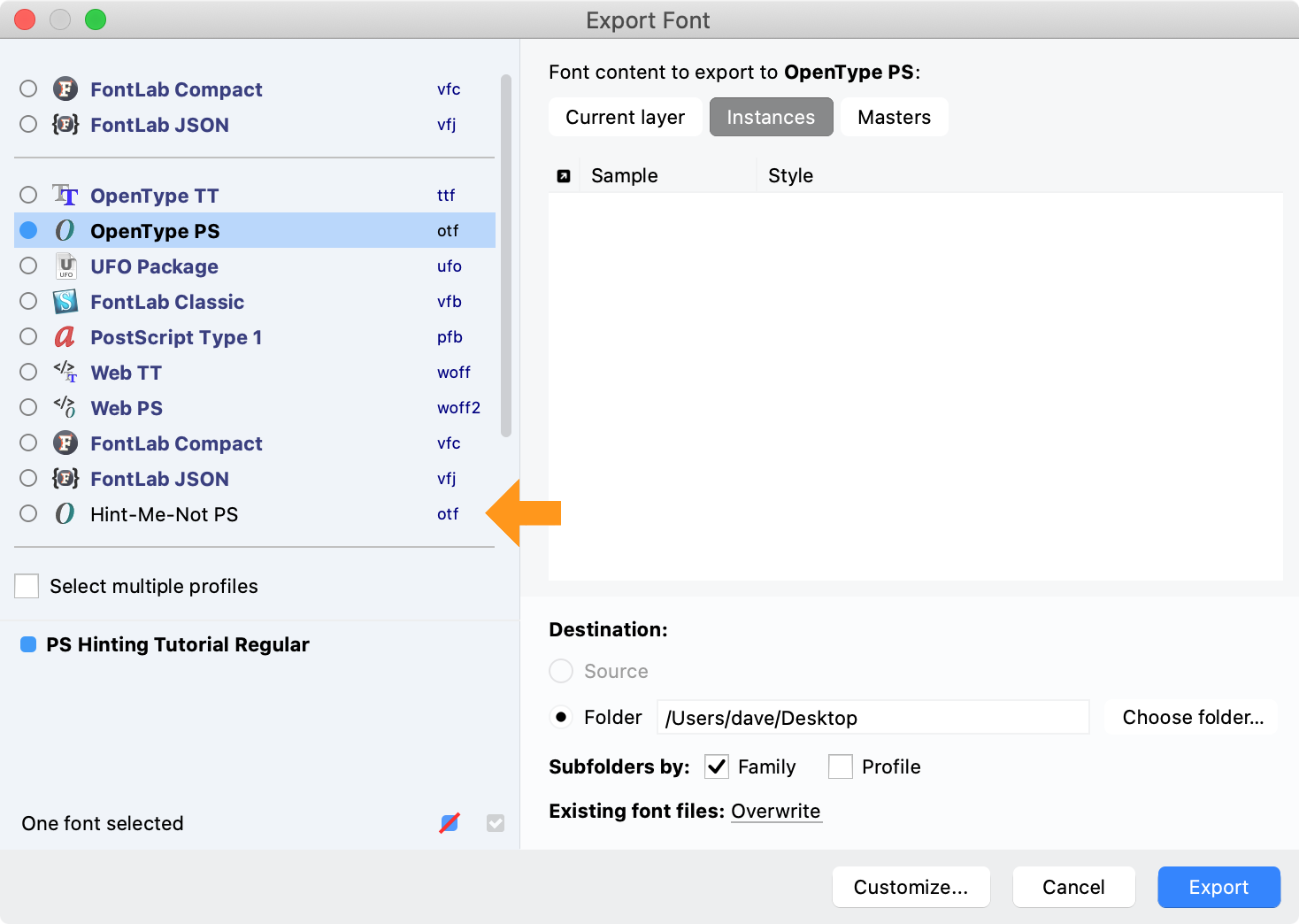 Now you know how to turn off hints, AND where you can make your own export profiles!
Conclusion¶
If your font needs hinting, then meet me in the next tutorial.
If your font doesn't…
…you dodged a bullet…
…this time…
;)
PS Hinting's really not that bad unless you are incorrectly manually hinting this guy… like I did when making this tutorial! FontLab's auto-hinter wouldn't be so silly as to add all those unnecessary hints.